I Am Not Okay With This Season 2 Release Date on Netflix – We All Are Waiting Though!
Netflix never fails to impress us with its new addition of top-quality seasons and shows to watch anytime. It has become one of the most promising platforms people turn to during the COVID-19 lockdown. Recent Netflix-original web-series I Am Not Okay With This created a buzz amongst its audiences, teenagers to be specific. I Am Not Okay With This is one of our favorite recent series to watch on Netflix. Here, we will talk about everything related to this epic drama-comedy coming-of-age Netflix series and if there is ever going to be a season 2 of this dark, magical masterpiece.
Plot, Origin and Release Date
I Am Not Okay With This is a Netflix Television series that was recently released on 26th February 2020 and is based on the comic book written by Charles Forsman. After only a while of being released on Netflix, this online web-series created an immense hype among the masses.
The series revolves around Sydney (played by Sophia Lillis) who appears to have some sort of mysterious and unusual superpowers. She can break things using only her mind, whenever she's angry. Yes, sounds odd and interesting, but that's not all. At the end of the season, she comes into contact with another man who appears to have the same superpowers as Sydney.
Sydney is perceived as an awkward, boring, and an "un-cool" 17-year-old teenager, who lives in Brownsville. She has acne-patches all over her thighs. She is anti-social and isn't much of a star at her school. As the show progresses, Sydney is shown to develop confusing feelings about her emotions, superpowers, and sexual preferences. She appears to go down the emotional roller-coaster ride throughout the season.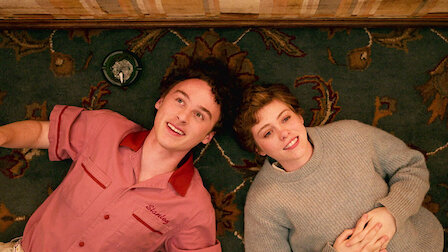 Life is hard, and she gets angry, just like any other normal teenager with their hormones and mood swings. Want to know the not-so-normal part? She tends to break things using her head whenever she feels that way.
Cast
Sydney Novak, star of the season, played by Sophia Wills
Dina, Sydney's best friend, played by Sofia Bryant
Stanley Barber played by Wyatt Oleff
Liam Novak played by Aidan Wojtak
Maggie Novak played by Kathleen Rose Perkins
Ratings and Episodes
I Am Not Okay With This now stands at a positive IMBd rating of 7.6. This T.V series currently consists of season 1 only, although there might be a season 2 coming soon. It has a total of 7 episodes, with each episode being anywhere from 19 to 28 minutes long.
Review: Is the Season Any Good?
The season starts-off by showing the main character, Sydney Novak, running down a road. The mysterious part is that she is covered all over in blood. The season then continues to show Sydney's normal, boring teenage-life. Everything seems to be going pretty normal for her when she discovers about her super-powers. Sydney has a lot to be angry and upset about. Her mom, single and overworked, doesn't give her the time and attention she needs as a teenager. Her only-best-friend falls for a football douche. She is confused about her leg-acne and the feelings she is developing for someone special. There is also a trauma that Sydney had been unable to get over since her childhood.
Sydney is also shown spending her time with her creepy, weird neighbor, Stanley Barber, who pretty much has the same music taste as her. Season 1 gives us only 7 episodes, but a lot to ponder upon. There are details and material-digestion in every single episode. The whole season is a dark, mysterious thriller.
The reason I Am Not Okay With This became a huge overnight success is as it conveys many important lessons in a very lighthearted and friendly way. The way may be dark and deadly, yes, but entertaining and friendly simultaneously. Sydney is just another 17-year-old teenager that does not fit into the definitions of femininity and womanhood. She does not feel like a true woman and is sort of a tomboy. She continues to deal with hard life challenges throughout the season: figuring out her sexuality, getting used to her mom's busy schedule, loneliness, childhood grief, and trauma, her unusual superpowers, confusing friendships and feelings, etc. The season speaks a thousand lessons, without saying a single word. It helps others understand the confusion and hardships of a young woman who has her whole life to live and is figuring herself out.
Updates on Season 2
Season 1 of this phenomenal and magic web-season received quite the hype from its audience. The first season ended in a very dark, mysterious way. At the end of season 1, it appears that Sydney killed her father, and then makes her head explode by making use of her superpowers. This ending seems to be very controversial and, as expected, has left people wanting more. The ending of season 1 created a demand for season 2, but we are still unsure about whether we will be getting a season 2 in the future or not.
The audiences all over the world are expecting season 2 of this magical series, which hopefully answers all their awaiting answers about the show that keep them up all night (including us). However, there has not been any announcement regarding a season 2. We believe that the outbreak of COVID-19 has made season 2 uncertain by giving the entertainment industry a very hard time.
However, as soon as the situation gets handled, we can expect a season 2 of I Am Not Okay With This ready to be enjoyed. Until then, the production and all announcements are currently at hold and people are advised to be patient until further notice by the production team.
Fingers Crossed …
The desperation and impatience among people regarding the release of a season 2 of I Am Not Okay With This appears to be growing with every passing second. The lockdown situation is already getting better, which means we probably will be getting a season 2 of this dark-comedy series.
However, in the meantime, if you haven't watched this epic art they are calling a season, you better hurry. It might make you desperate for more, but you are never going to regret it.